"Le Grand Chalet" in Châtel
Le grand chalet
Come and relax in this beautiful, charming chalet with 10 bedrooms... This chalet can be rented as a half-chalet distributed on 2 sides representing each part 120 m2 on the ground on 3 levels. The left part named "The Geranium of the Woods" and the right part "The Bindweed of the Fields". Each part has its own independent entrance. Communication can only be done through the living area in case of rental of the total complex where you will have the opportunity to eat together. Shuttles can be taken near the chalet allowing a + easy movement. Easy access for people with reduced mobility
Easy access for people with reduced mobility
150 m free shuttle from the town to access the slopes
1 km from shopping centre
Bakery at 100 m (open during winter)
Located close to the road that leads to the slopes
The ski school from 3 to 77 years old at the foot of the Linga slopes
Large private and clear-snow parking in winter
Contact us
Chalet
Surface floor area : ≈ 240 m²
Capacity 24-28 people
Bedrooms : 10 including 4 with balcony acces
Single beds : 16
Double beds : 6
Bunk beds : 4 (for 8 people)
Bathrooms : 4
Chimneys : 2
Large tables : 2 (14 people each)
Sets of chairs
Garden furniture
Balcony
Large car park cleared of snow
Garden
Ski storage
Barbecue
Swing common to the chalets
Common play area among the chalets
Garden table
Equipment
Duvets on all beds
60x60 cm pillows
Free WiFi
2 induction hobs
2 ovens
2 dishwashers
2 washing machines
2 flat screen TV 26"
2 DVD/MP3 players
2 fridges/freezers
2 microwaves
3 squeegee machines
4 fondue machines
2 electric mixers
2 couscous makers
2 griddles XL
4 coffee filters
1 italien coffee maker
2 Senseo
2 electric kettles
2 mash or soup blenders
2 toasters
Large pots catering
Champagne glasses and champagne bucket
2 irons and ironing boards
2 hair dryers
2 tower dryers
For you
Bedding linen (Optional)
Towels (Optional)
Departure day cleaning (Optional)
Half board (Optional)
Chef at home (Optional)
Pets :
Refused or by prior agreement with the owner by phone
Childcare (Free on request):
2 travel cots
Highchair
Baby potty
Changing mat
Baby bath (on demand)
Good deals:
Chef at home (Optional)
Delivery of breads and pastries every morning (Optional)
Late arrival meal tray kit (Optional)
Nearby
Winter:
Ski
Ice diving
Dog sledding
Cross-country skiing
Ice skating
Any Season:
Heated Pool
Wellness treatments
Summer:
Golf
Archery
Ponies
Paragliding
Fantasticâble
Dévalkart
Summer bobsleigh
Chalet Lay-Out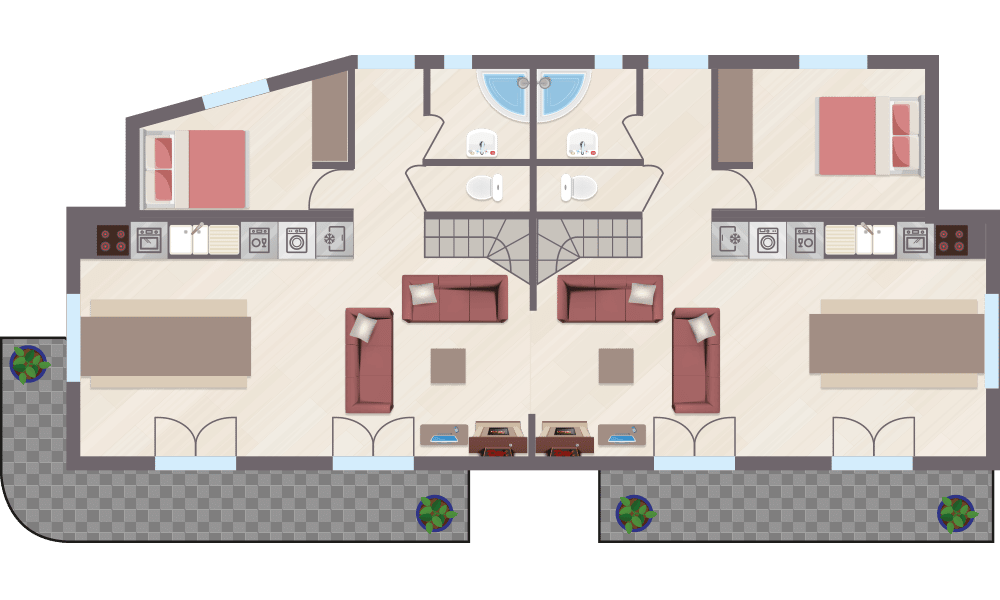 Ground floor
2 ski storage rooms
2 kitchens equipped with sets of chairs and 2 large tables
2 large living rooms with fireplaces
4 Sofas
2 double bedrooms (140 cm)
2 showers with safety handle
2 separate toilets with safety handle for people with reduced mobility
First floor
4 double bedrooms (140 cm)
2 bedrooms with 2 bunk beds (90 cm) and mezzanine access
2 bedrooms with 2 twin beds + 1 single bed (90 cm)
2 showers
2 separate toilets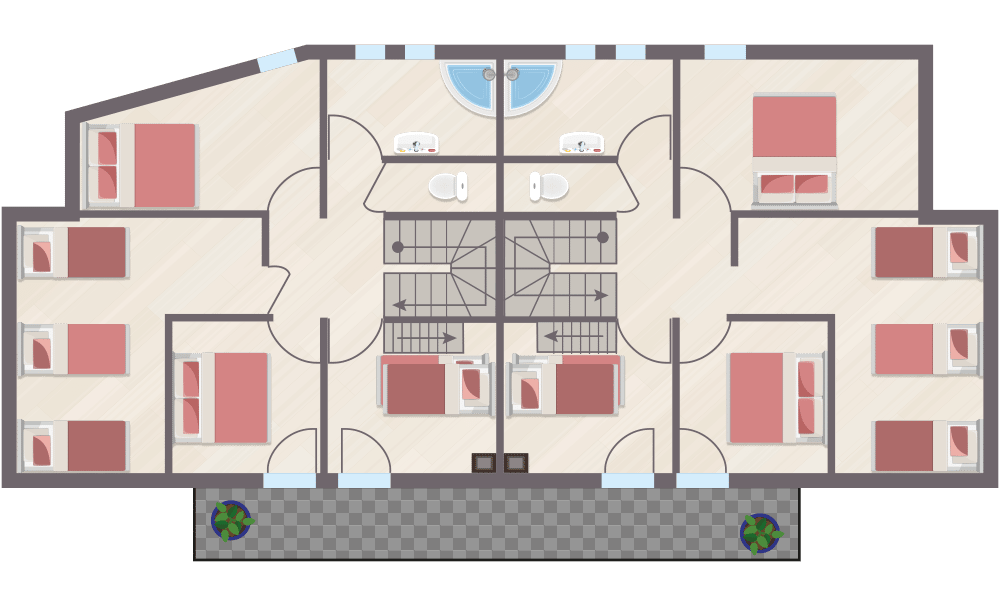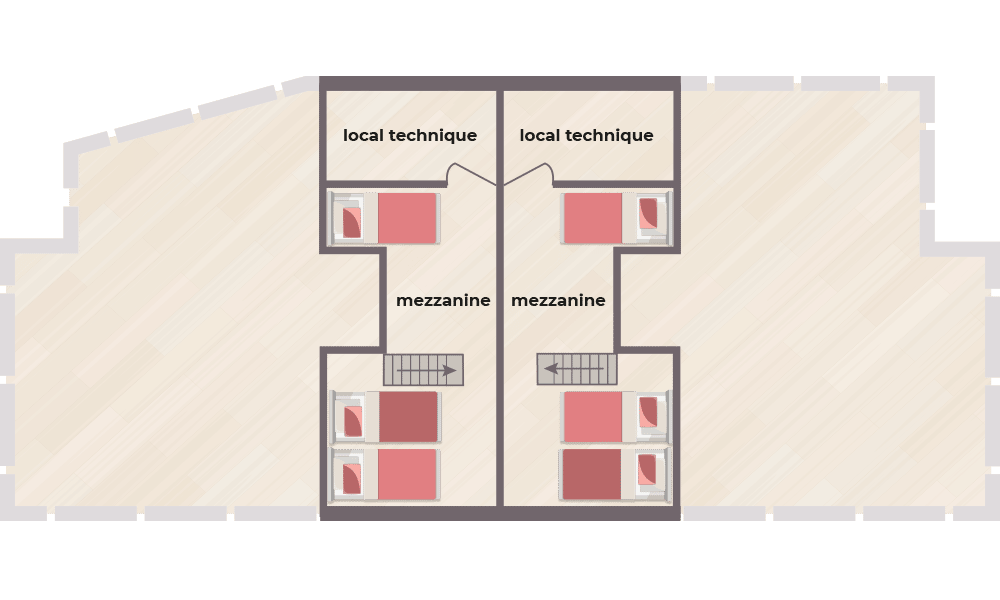 Services
We offer various services to make your stay in our chalets as comfortable as possible. For personalized support, do contact us!

Towels & Bedding

Departure day cleaning



Childcare furniture

Food & Groceries delivery

Chef/butler service
Do contact us to find out more!
Guest experiences
Nothing is like the opinions and feedback of those who have trusted us to rent their holiday chalet!
We thank Mrs. Metz and Mrs. Caroline for their warm welcome. We spent 1 very nice week with a group of people with disabilities in the Grand Chalet. The cottage is nice and well equipped and despite the mixed weather we were able to take advantage of beautiful visits and walks. Thank you again for offering us the possibility of having the meals delivered on site... If the opportunity arises it is with pleasure that we will return.
Encore merci de nous avoir proposé la possibilité de se faire livrer les repas sur place... Si l'occasion se représente c'est avec plaisir que nous reviendrons.



If you are twenty do not look for your rental you have found it! The Grand Chalet is far enough away not to inconvenience the neighborhood but not too far to walk into town and the bus stop is a 2 min walk away to take you to the slopes. It is large and has 4 bathrooms, 2 kitchens to prepare meals for 20 and what is really nice is that you can group the two tables together to make a large friendly table. The cottage was clean when we arrived and the housekeeping option is appreciable. We recommend!

Large well equipped chalet. We spent a long weekend at the big cottage. We were a group of 20 friends with small children and we found ourselves in a spacious chalet very well equipped and with everything necessary to enjoy with friends. The advice and directions of the owner helped us to enjoy Châtel. The Multipass is very convenient and allowed us to do several activities with the children.

We can only congratulate ourselves for having chosen the Grand Chalet in Châtel, if not the weather that was not at the rendez-vous, but the enchanting setting made us forget the lack of sun. The 2 people with reduced mobility were able to enjoy their room on the ground floor. As for the chalet, it is tastefully decorated, the dishes are more than enough but a small flat concerning the stoves that hang on the cooking (replaced at our exit), and the ovens of the 2 stoves that were not very clean. Other than that everything was fine.
Thank you for your welcome and for our exchanges!


Chalet very well located for quick and easy access to the lifts of Linga or Pré la Joux and supermarket very close. The 2 living spaces are very practical and pleasant, especially with children. Overall well suited to the large group we were (23+one infant), very clean and good quality bedding. The owner is available and accommodating and does her utmost to quickly resolve any problems. Special mention for Annie the cook, who integrated perfectly into the group and thanks to whom the ski holiday was also a stay of culinary discoveries!

I want to thank you, on behalf of all of us, for letting us stay in your beautiful cottage. We all felt so comfortable, like home. The kids enjoyed every moment, with so much space around.
Your Manager has been so helpful and we are grateful for his guidance. We have recommended your cottage to everyone here in the UK. Once again, thank you so much for your hospitality and for making our holiday memorable.

Guest experiences and reviews